Just ask any Hollywood location scout. Finding the perfect spot is paramount to success, and this hotel close to downtown L.A. deserves an Oscar. Guests are only 2.5 miles from the convention center, making business travel easy—especially when getting some extra beauty sleep is required. With a hotel close to downtown L.A., guests are minutes from all the top attractions including Michelin-starred restaurants and the latest pop-up boutiques.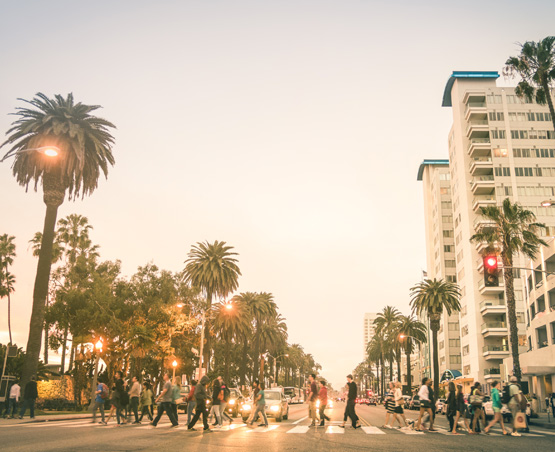 Don't miss out on these area attractions:
The famed Hollywood sign (best seen from Beachwood Canyon or Lake Hollywood Park)
La Brea Tar pits
The Staples Center, where world-class events take place
Madame Tussauds Hollywood, where you can really get up close and personal with the stars
Numerous golden beaches from Muscle Beach to Venice
Quickly arrive at Universal Studios for a rip-roaring thrill of a good time. Tours of the stars take only minutes from this hotel, close to Hollywood and the homes of the biggest stars in the industry. Visit the Hollywood Walk of Fame at Grauman's Chinese Theater, or zip down to Beverly Hills' Rodeo Drive for a shopping experience like no other. Visit the famous Griffith Park Observatory, where some of the most romantic scenes in La La Land were filmed, or head to The Grove for a legendary shopping experience to balance out that Rodeo Drive outing.
When staying at a hotel in Mid-Wilshire District, it's easy to head out to some of the most popular nearby destinations like Disneyland and Six Flags Magic Mountain for more thrills, a little family time and epic eats. Don't forget the beautiful Santa Monica Pier for the perfect date at dusk, or the countless museums in the L.A. area.
View Map of Los Angeles Attractions >